Taking a break from Madison's November grayness to recharge with new ideas for living a little better with a little less….
So here are some photographic thoughts of interesting people places we've been enjoying down in Mexico lindo….
Monterrey' Barrio Antiguo was our first stop.
Dig this restaurant's name ….I so enjoy the Mexicans' wordplay and fun with absurdities….(a fun little restaurant, too!)

Oh, and to triple the wordplay, there was an antique fire engine with siren inside the restaurant.
We were staying in Monterrey's Barrio Antiguo, where art was just about everywhere….

Coffee culture has finally found Mexico…so different from my last Monterrey trip in 2009 when the best coffee you could find was a Nescafe. Yick. I guess they've finally discovered that they themselves produce the best coffee in the world, right at home. This shop, down in the Barrio served up coffee that rivals any hipster brew up north…

Oh, and somebody's happy to be starting her month-long vacay!
Una puerta antigua en El Barrio Antiguo….

El pollo en piedra….
El pollo en pisos….

And the cult of Frida y su arte, everywhere….

Más arte….
Siempre más arte….

And my obsession with entropy; such fine examples in action in the architecture & landscapes of MX…..

….The crumbling facade revealing interesting masonry techniques, the variety of materials at different angles likely providing strength through flexibility…..

Are those schists between my limestones?

Why, yes, I think they are!

When all else fails….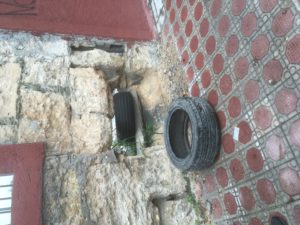 Did I mention that I like old stuff?

But remember, when visiting the parks in Monterrey,
Onward to Guanajuato!